The Best of Both Worlds: Indiana University Pioneers E-Textbook Model
IU's eTexts delivery model saves students money and ensures that publishers get paid for their content.
The ongoing shift to digital and the impetus to lower the cost of higher education has many colleges focusing on strategies to deliver digital learning materials.
Indiana University is at the forefront of this digital trend with its systemwide eTexts initiative. The program launched in September 2011 after gathering data and feedback from five semesters of pilots with faculty and students.
In just its second full semester, IU now has roughly 8,000 of its 110,000 students using eTexts and has signed content agreements with many leading publishers, including McGraw-Hill, Pearson, John Wiley & Sons, Macmillan, W.W. Norton, Harvard Business Publishing and Flat World Knowledge.
The IU eTexts model is an all-around win-win. Students save money on their materials, faculty are provided new digital tools for teaching and learning, and publishers and authors get paid for each use of their content.
Here's how it works: Faculty have the option to select eTexts from one of the contracted publishers. Faculty and students then access the chosen eTexts through an e-reader software platform that integrates with IU's learning management system through single sign-on (an IU username and password). Each student in the section is charged an eTexts fee and can access the materials on multiple devices while enrolled at IU. Faculty can be confident that each student has access to the appropriate materials for the class, and because eTexts fees are collected through bursar billing, publishers are guaranteed direct payment for the content.
Based on the development and evolution of the IU initiative, here are some best practices for launching a digital textbook delivery program:
Make the program a choice for faculty.
Many believe that digital learning is the future and printed materials will soon be an afterthought. Requiring faculty to immediately start using a digital program as part of a university initiative is a poor strategy, however.
IU's eTexts initiative has been successful because it is offered as an option. Some faculty members choose to dive in and innovate with the new digital learning tools, while others ease into using digital.
By providing eTexts as a choice for faculty, an institution can
circumvent many of the questions surrounding academic freedom that might surface from an initiative that forces digital content on faculty.
Choose a single, versatile e-reader platform.
Students, faculty and staff are inundated with software applications and platforms, and the eTexts marketplace is no different. Each publisher has a preferred e-reader platform to display their content, and if an institution does not intercede, students and faculty will access eTexts through three to four different e-reader software platforms.
With so many choices, the best policy is to select one platform that can display content from all publishers, and that can be accessed on various devices. IU chose Courseload, an HTML5 platform that lets students and faculty access eTexts through the device of their choice.
From an IT support perspective, it is also much easier to support one platform that is HTML5-compatible, rather than various platforms that may require students and faculty to continuously download new apps.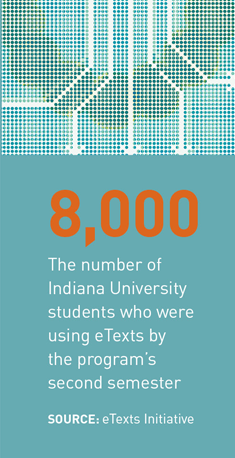 Make it accessible.
Institutions thinking about an electronic-textbook program should consider the new opportunities that the shift to digital can offer. There are some very promising advancements being made by publishers and platform providers that help students with disabilities take advantage of the latest digital tools.
Accessibility is very important to IU. We are working closely with our e-reader provider and the publishers through our Adaptive Technology and Accessibility Center to deliver a positive eTexts experience. To be successful, institutions need to form partnerships with publishers and platform providers to address these issues, and understand that accessibility will require that all parties work together toward a common goal.
Include the library and open content.
At many institutions, the campus library negotiates content license agreements with publishers, scholarly journals and other educational material providers. These licenses deliver a wealth of digital content and often provide unlimited access by faculty and students at the institution.
E-reader software platforms create a new delivery medium, providing faculty and students access to a large supply of content at no additional cost. Students can access the content via the e-reader, with features such as highlighting and annotation. And faculty can easily create digital course packs of library content, without worrying about making copies or printing and binding. Faculty can also use the e-reader platform to deliver open and self-created content, lowering the cost for their students even further.
Think digital plus print.
Digital is the future, but not everyone is ready to give up printed copies of their materials. IU made the decision to offer eTexts in both print and digital formats to give students a choice. Some students will immediately jump to the digital format, consuming eTexts on their notebooks or tablets, while others will want the peace of mind of a printed version.
Giving everyone the space to make a gradual transition to digital is the best path forward. And even though many students will embrace the digital technology and new tools, such as a full-text search feature, a number of them will still want to print specific chapters or even the entire text.
Support the faculty.
There's more to any digital texts initiative than simply signing agreements with publishers and delivering content. E-reader platforms are powerful tools for teaching and learning that allow integration of media directly into the IU eTexts and provide social annotation features that let professors and students develop collaborative study groups. But without training and support, many faculty members would be unaware of the various features that e-readers offer.
IU focused on ramping up eTexts support through its centers for innovative teaching and learning. The centers are available for consultation, and staff members have reached out directly to faculty to arrange hands-on eTexts workshops. This support gives faculty the opportunity to learn cutting-edge techniques that can be transferred to the classroom and students, allowing eTexts to be used more effectively.
<p>Corbis/Glow Images</p>
More On