How Big Data Is Personalizing the College Experience [Infographic]
Despite privacy concerns, big schools are backing big data.
Some schools are finally finding ways to put big data to work for students. While the collection and analysis of big data — which often includes potentially sensitive information — is highly controversial, some colleges are riding the innovation wave and seeing positive outcomes.
Big data is aiding course selection in particular. Because both course registration and transcripts are tracked online, technology has arrived that can marry the two to find patterns in the process. Based on the results, a system can help students find the right classes and even suggest a major, based on their successes (and failures) in class.
Arizona State offers a perfect example of a school that is harnessing the power of big data. Other schools are also seeing positive results from their data wrangling, including Austin Peay State University:
[Provost] Mr. Denley points to a spate of recent books by behavioral economists, all with a common theme: When presented with many options and little information, people find it difficult to make wise choices. The same goes for college students trying to construct a schedule, he says. They know they must take a social science class, but they don't know the implications of taking political science vs. psychology vs. economics. They choose based on course descriptions or to avoid having to wake up for an 8 a.m. class on Monday. Every year, students in Tennessee lose their state scholarships because they fall a hair short of the G.P.A. cutoff, Mr. Denley says, a financial swing that "massively changes their likelihood of graduating."

"When students do indeed take the courses that are recommended to them, they actually do substantially better," he says. And take them they do. Last fall, 45 percent of classes on students' schedules were from top-10 recommendations, 57 percent from their top 15.
Although that may help students breeze through the course registration process, privacy issues loom all around big data discussions. Other administrators argue that big data can offer bad advice to students if not analyzed properly. Check out the pros and cons in the infographic below. Which side of the argument do you support?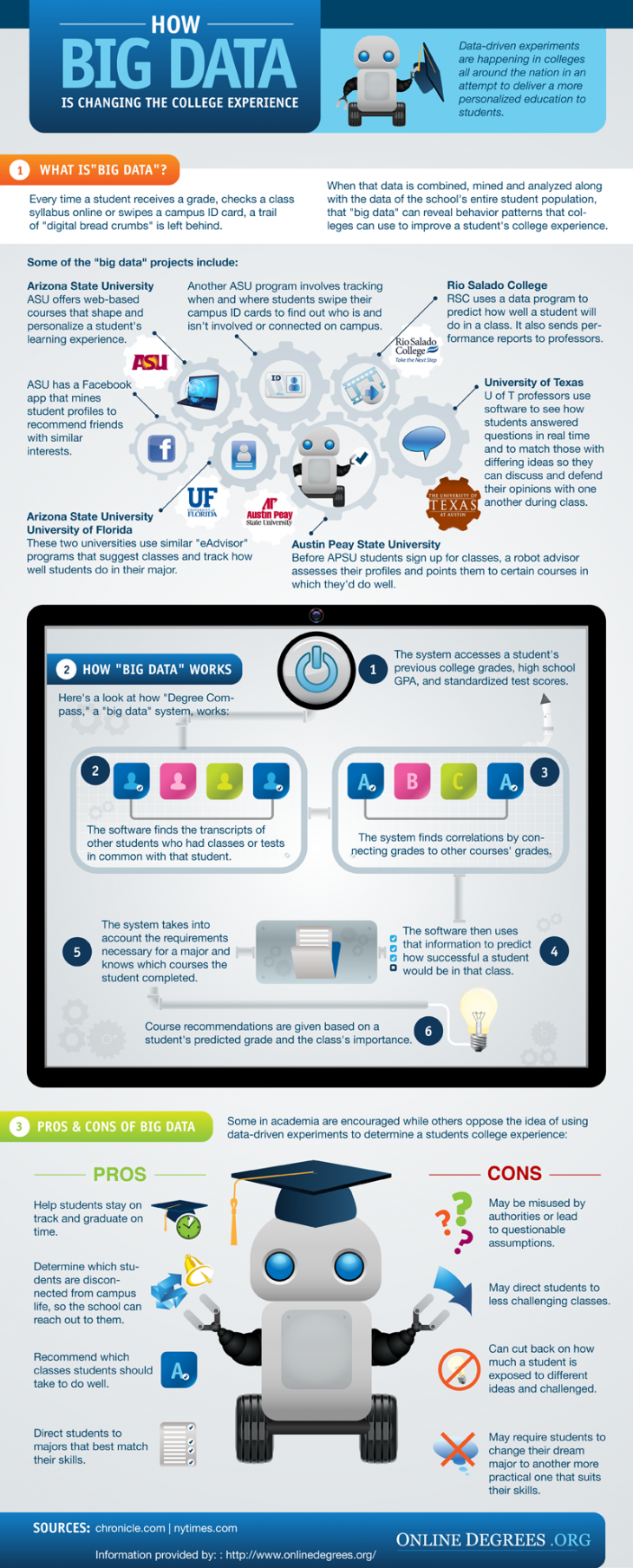 More On