3 Important Facts About College Students and Technology
2012 ECAR study highlights key areas of technology for colleges.
EDUCAUSE is one of the most trusted names in higher education. It's no surprise that their 2012 ECAR (EDUCAUSE Center for Applied Research) Study of Undergraduate Students and Information Technology revealed some fascinating data about how students are currently using technology and how they want to be using it. This is the ninth year the study has been conducted, and EDUCAUSE has leveraged the continuity to gather data over that period and discover new uses and requirements for technology:
The study is designed to gather both trending data, to provide insight about how undergraduate student behaviors and perceptions have changed over time, and topical data, to address new or emerging issues that are relevant for the year in which data are collected. The primary objectives of this year's study are to create a profile of undergraduate students' ownership and use of technology for academics, to identify ways that technology helps them achieve their academic outcomes, and to assess their perceptions of how well institutions and instructors use technology to enhance the academic experience.
Certainly, optimal use of technology is blocked by barriers, such as bandwidth and buy-in. But, by and large, students are showing us how we can leverage hardware and software to increase learning outcomes.
We encourage you to download and read the full report, but here are the three most important takeaways from the study:
The Flipped Classroom Works
The study found that 70 percent of students learn best in a blended environment consisting of face-to-face learning and an online supplement. Perhaps "hybrid learning environment" is a better term than "flipped classroom," since there are many ways to integrate online learning into traditional classes without entirely changing the teaching philosophy. Sixty-four percent of students agreed that "technology elevates the level of teaching," and 68 percent are satisfied with their professors' use of technology. Those numbers have increased dramatically over the last several years, pointing to the embracing of technology by professors.
Students Own Devices, So We Need to Leverage Them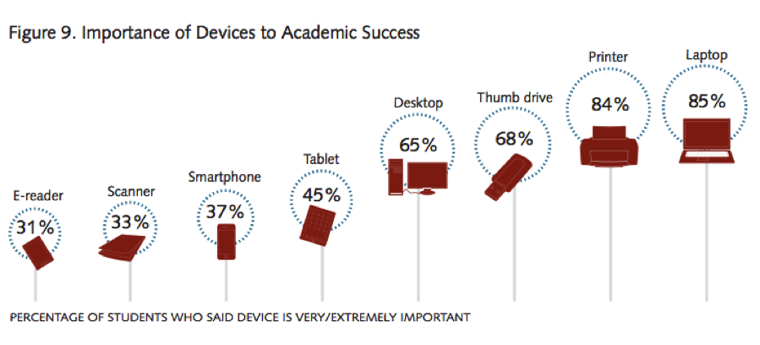 Image: EDUCAUSE
A full 86 percent of students own laptops and 62 percent own smartphones; tablets and e-readers are not far behind. These devices can do so much more than serve as a word processor or a research tool. Are professors really taking advantage of the fact that nearly every student can tap open-source software, social media, free content-management systems and unlimited information? While it's impossible to make use of everything the Web has to offer, students have unprecedented access. Keep that in mind as you plan your classes.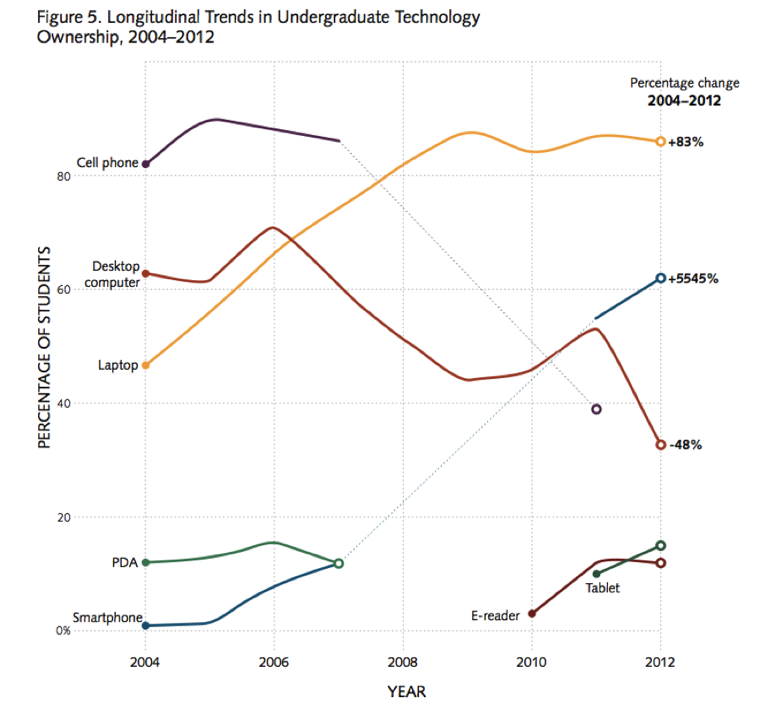 Image: EDUCAUSE
Students Will Need to Use Technology in Their Careers, So They Should Use It Now
Here is a sentence you can't ignore: "Students value technology in the academic environment, and the vast majority say that technology helps them achieve their academic outcomes and prepares them for the future." Hardware and software change too fast to train students on any particular device or application, but a strong understanding of how technology can empower students after they graduate is invaluable, because its utility continues to grow. 
The full study can be downloaded here.
More On