F.I.T. Aviation Takes Off with Cisco's Unified Computing System
Flight school adds speed and reliability to network performance with Cisco networking technology.
For Hilary Schrey, systems administrator at F.I.T. Aviation in Melbourne, Fla., running the network used to feel like he was stuck on the runway most days. Life was a series of bottlenecks and delays.
All that changed last fall when F.I.T. Aviation deployed the Cisco Systems Unified Computing System (UCS) to integrate and streamline the company's virtualized IT environment.
"Lots of bottlenecks just disappeared," says Schrey, whose company is a subsidiary of the Florida Institute of Technology and does all of the flight training for its College of Aeronautics.
"What all the users noticed was increased processing speed across the board once the UCS was in place," Schrey says. "For us in the IT department, management and maintenance became a lot simpler."
Cisco's UCS is an integrated platform that includes servers, networking, I/O functions and access to storage, all brought together with Cisco's unified fabric interconnects and extenders. The unified fabric is a high-speed switching infrastructure based on Fibre Channel over Ethernet protocols, but it also is able to consolidate Fibre Channel, Ethernet and iSCSI without additional cabling or switching.
UCS Manager delivers embedded and extensible management of all the organization's hardware and software components, streamlining operations such as load balancing and reconfiguration of virtual machines. F.I.T. Aviation uses two UCS 5100 Series blade server chassis, each containing three Cisco B250 M2 Extended Memory blades and two B200 M2 blades per chassis.
VIDEO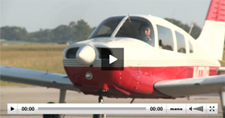 How F.I.T. Aviation Streamlined Its Data Center. Click here to watch.
An Agile Fabric
Fabric computers such as UCS offer exceptional operational agility, particularly in virtual environments, says Carl Claunch, an analyst for the technology research firm Gartner. Tight integration of all major data center functions through the switching fabric lets IT managers automatically coordinate changes across the data center infrastructure. Faster computing speeds are largely the result of the close coupling of data center resources and the high-speed networking provided by the unified fabric. Implementing the UCS also represents a data center network upgrade because it replaces the existing networking servers and storage resources, he says.
"The real secret sauce of the UCS is in flexibility," says Claunch. "In a virtualized environment, you can even do things like moving virtual machines while they're running. These systems are ideal for dynamic computing environments."
"Dynamic" is a good description of the IT environment at F.I.T. Aviation. While the College of Aeronautics students take priority, about 75 percent of the 780 pilots studying at F.I.T. Aviation come from other organizations, including the Pilot Training College of Ireland, the national airlines of Panama and Turkey, and the general public.
280 The number of flight lessons taught at F.I.T. Aviation daily during ideal weather conditions
SOURCE: F.I.T. Aviation
Turnover among the 160 staff and faculty members adds to the need for efficient creation and provisioning of accounts. In addition to financials and other back-office applications, the IT systems are used to record, manage and analyze information from more than 1,000 flight lessons a week and to keep track of maintenance for the F.I.T. Aviation fleet of 54 aircraft. Part of the company's business is also providing maintenance services for planes owned by customers.
The UCS deployment is the culmination of a data center virtualization and consolidation project, the planning for which began in 2004, says Schrey. The company started virtualizing on servers using VMware Enterprise ESX in 2006, and by 2009 the entire IT infrastructure — servers, applications, desktops and storage — was running on virtual machines. By early 2011 it became clear that F.I.T. needed new hardware and management tools to exploit the potential of the virtualized environment.
Schrey, along with Richard Donaldson, a systems analyst, and Dan Parnell, a web developer, spent several months investigating products from several manufacturers with the help of CDW•G. In September, CDW•G technical specialists urged the F.I.T. Aviation staff to consider the Cisco UCS. The buying decision came quickly, and the UCS was up and running by late November.
"I never considered Cisco's solution because I had mistakenly assumed it was out of our price range. But I have a long relationship with CDW•G — they worked with us on the virtualization — and I trust their advice," says Schrey. "Once we started looking into the technical aspects and comparing the UCS with other solutions, it won hands down on features and was no more expensive."
After taking advantage of substantial discounts available for higher education institutions, F.I.T. Aviation paid $124,000 for the UCS. The cost will be covered mostly through projected savings on server and desktop hardware, says Schrey.
Deployment Challenges
Deploying UCS is no easy trick. With an implementation manual of more than 1,400 pages, Schrey says even IT professionals with extensive Cisco Catalyst experience may find it challenging. For example, the unified fabric of the UCS requires extra layers of configuration during installation.
"The learning curve is pretty steep, but we had the UCS up and running in a few days with the help of CDW•G. They also set up a site visit from Cisco engineers," Schrey says.
For other IT professionals considering a move to UCS, Schrey advises that they closely follow the configuration and implementation guide, despite its heft. "It's daunting in its size, but extremely well written. This is not the kind of installation you want to bushwhack," he adds.
Schrey says the other important best practice for a successful implementation is to line up support from Cisco in advance and to consult with them at every step of the process.
The F.I.T. Aviation computing environment was transformed by the installation of the UCS, says software integration developer Michaela Sarver, who also performs some systems management and maintenance as part of F.I.T.'s four-person IT team.
"Our old servers were so overloaded that even we administrators would get popped off the system. The array didn't have the resources," she says.
Checking the status of the old host physical servers using tools in VMware's vSphere software, the IT staff was relieved to see only yellow alarms on the old servers, signaling that the system was merely approaching capacity, says Sarver. All too often there were red alarms indicating that servers were overloaded.
"Now there's nothing, no alarms — it's a new experience," she says. "I can do my work, and I can help other people when they need it."
The Sky's the Limit
Besides providing an escape from the continual alert mode, the UCS offers many other benefits, says Schrey. Processes such as load balancing, provisioning and migrating virtual machines are substantially simplified.
In the near future, the only major change planned for the F.I.T. Aviation data center is a new storage area network, which should be in place by the end of 2012. The IT staff may add RAM to the B250 blade servers this year. The company may also eventually need more blades and chassis — UCS can manage up to 56 chassis as a single configuration.
For now, the UCS has relieved data center management headaches for Schrey and his staff while also improving the work lives of users.
Greg Reverdiau, F.I.T. Aviation's manager of business services, was one of the most vocal critics of the old system. Before the UCS was deployed, calculations based on the predictive modeling formulas Reverdiau used took five minutes or more. The old system also frequently crashed, forcing him to start over. But those problems disappeared in November.
"Since we've had UCS, I haven't had any issues — no crashes, and the heaviest files take less than two minutes," Reverdiau says.
Ben Van Hook