Review: Acer Chromebook 14 for Work with 720p Is Built to Last
Stamina, strength and stability make this Acer an attractive option for IT professionals and educators.
Acer's Chromebook 14 for Work is fully compliant with Google's Chrome for Work initiative. It's not just an ordinary Chromebook: Acer has included multiple hardware and software security layers and provided for centralized management, just like any other business-class device. It looks, feels, and acts just like a traditional notebook, except it's lighter and runs the Chrome operating system.
Educational budgets are tight, and devices need to be built to last. The Chromebook 14 is the industry's first notebook-sized device with Vibrant Corning Gorilla Glass 3, which is incredibly tough and damage-resistant. The aluminum chassis is solid enough to pass several U.S. Defense Department compliance tests, including a 4-foot drop, high and low temperature exposure, and rain and humidity resistance.
Chromebook 14 For Work Has More Computing Power Than Meets The Eye
Under the hood is an Intel Core i3 sixth-generation processor with 4 gigabytes of RAM and 32GB of eMMC storage. Trying to max out the Acer Chromebook 14 for Work by opening several windows of YouTube videos, sports highlights and Google Docs was an exercise in futility: It handled it all without hesitation.
This device has stamina to accompany that strength. It maintained considerable battery life while playing an HD rocket launch video over Wi-Fi repeatedly for almost 11 hours. That means the Chromebook 14 will last the entire day without recharging.
Students and educational staff use an increasing amount of video in the classroom. Whether reviewing student presentations using the high-definition monitor or the 720p webcam to meet virtually with other students a world away, the Acer Chromebook 14 is ready to deliver an immersive experience.
Connections are a snap too. Multiple monitors can be driven through either one of the two USB 3.0 ports or the USB Type C port. The Acer Chromebook 14 for Work also is equipped with Bluetooth 4.2 and 802.11ac Wi-Fi, the latter featuring new dual-band technology (2.4GHz and 5GHz) to help combat interference.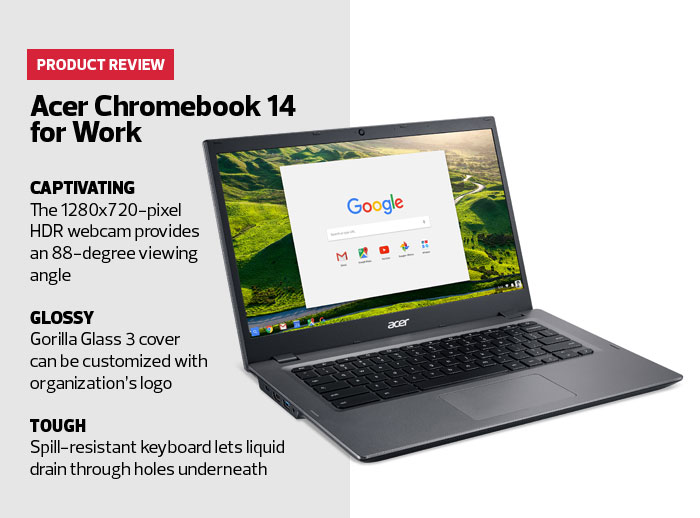 IT Support-Friendly
During a full week's worth of testing in a real-work scenario, the Acer Chromebook 14 for Work performed admirably, either connecting to a Citrix XenDesktop or simply using Remote Desktop Protocol through a Citrix server to a user's desktop. The security team will love it: Users can access all the data they need without being able to copy it locally onto a mobile device.
Chromebooks Take the Headache Out of Establishing a 1:1 Environment
Even though Chromebooks are much less complex than mobile computing devices running on other operating systems, K–12 IT administrators still need to administer, track and configure a fleet of them.
Google's web-based management console makes it easy to set up and manage — from any location with adequate Wi-Fi — an entire fleet of Chrome devices and user accounts. (Because Chromebooks are cloud-driven, an internet connection is required for just about every operation. Users can test a location's Wi-Fi signal strength using Google's Wi-Fi Analyzer for Android.)
From the console, IT staff can configure how devices connect using various protocols and encrypted schemes, including Wi-Fi Protected Access 2, Extensible Authentication Protocol–Transport Layer Security, Protected Extensible Authentication Protocol and Lightweight Extensible Authentication Protocol. Devices also can be tracked by serial number to determine whether they are in use, by whom and where.
In addition to seamless automatic updates of Chrome OS and the browser itself, Google provides security features such as sandboxing, verified boot and data encryption. If the IT department wants to integrate devices with its own directory services and provide single sign-on, it will need to ensure that each user has a working Google Apps for Education account.
Set Your Chromebook 14 Up As You Like It
Local policy settings are a matter of preference. Chromebooks can be configured to require a password when woken from an idle state, for example. Administrators also can specify which Google applications and Chrome extensions are required, and which are permitted.
Google Cloud Print allows users to print from web-connected devices, including Chromebooks, smartphones and tablets. The technology works with all printers, but for the "best printing experience," Google recommends purchasing a cloud-ready printer: one that connects directly to the internet and doesn't require a PC to set up. When Cloud Print users wish to print, their data is routed directly to Google's servers to be rendered and then transmitted to their printer.
Refer to Google's instructions for fleet administration and Technical Planning Guide for more pointers.